Pics contributed by Sarah; words and map, Alan
The first part of this beautiful walk heads north along Dunwich beach. We were greeted at the start by a seal. Unfortunately no-one had any IOG membership forms so we were unable to sign him or her up.
We were blessed with sun for the entirety of the walk. Once we'd finished with the beach we walked through the Oldtown Marshes on the Suffolk Coastal Path to Walberswick. As we emerged from the head-high reeds near Southwold Harbour I did a head count. I was concerned we might have lost a few people. We started the walk with twenty people and two dogs. Twenty four people and two dogs emerged from the reeds!
We ate a picnic lunch with a really nice view of Southwold Harbour. The weather was so good we all agreed to extend the original walk by two miles to include a loop around Tinker's Marshes. The weather was perfect for this part of the walk and I felt like I was walking through an oil painting.
We joined the Sandlings Walk briefly, then followed the East Sheep Walk through Oldtown Marshes to rejoin the Suffolk Coastal Pat, which we then followed into Dunwich.
A few of us then ate a superb afternoon/evening meal at the Ship Inn in Dunwich. The only blot on the day was my wife questioning my navigation!
Many thanks to all the walkers, and Taz and Bess, for making the walk such a memorable experience.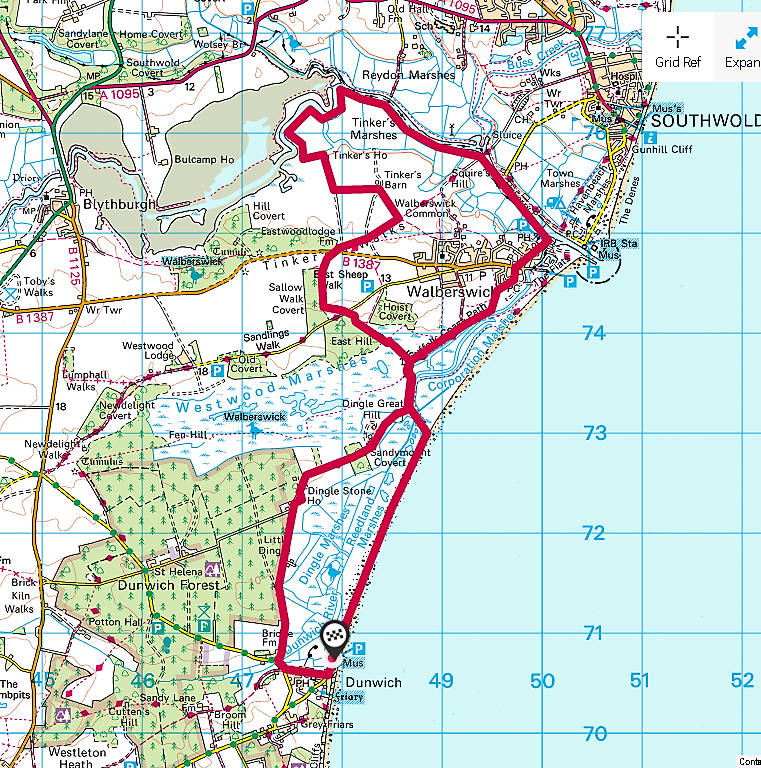 Walk route – reproduced from OS Maps. © Crown copyright. 2017