Text contributed by Ian S.; pictures by Ian and Anni
The famous five IOGers, comprising Emma Giddings, Pete Edwards, Karen Stracey, Steve (Tom) Sawer & myself gathered at the Whole Hog course near Woodbridge on a recent Sunday morning. Luckily it was the last but one day of the Indian Summer with temperatures in the mid 20s. Being so warm would allow us to dry out between the water & mud which lay ahead – as us 'veterans' know water and mud are essentials in the Hog race. We were in wave 4 leaving at 12.30. After a warm up by the local Mad Lizzie (80s tv reference), the air horn sounded and we were off! A few hundred metres run to the first of 40+ obstacles. This was basically a large bore hose which soaked everyone whilst running through pools of water and then down a muddy slope. At least we got the soaking over and done with…….
We acted as a team helping each at the various obstacles, which ranged from from straw bales to scramble nets and large wooden fences, amongst others. There were many water-based obstacles, water slides into large ponds, pipes to climb through which were partially water filled, scramble nets over lots of mud, monkey bars, slippery telegraph poles over large ditches.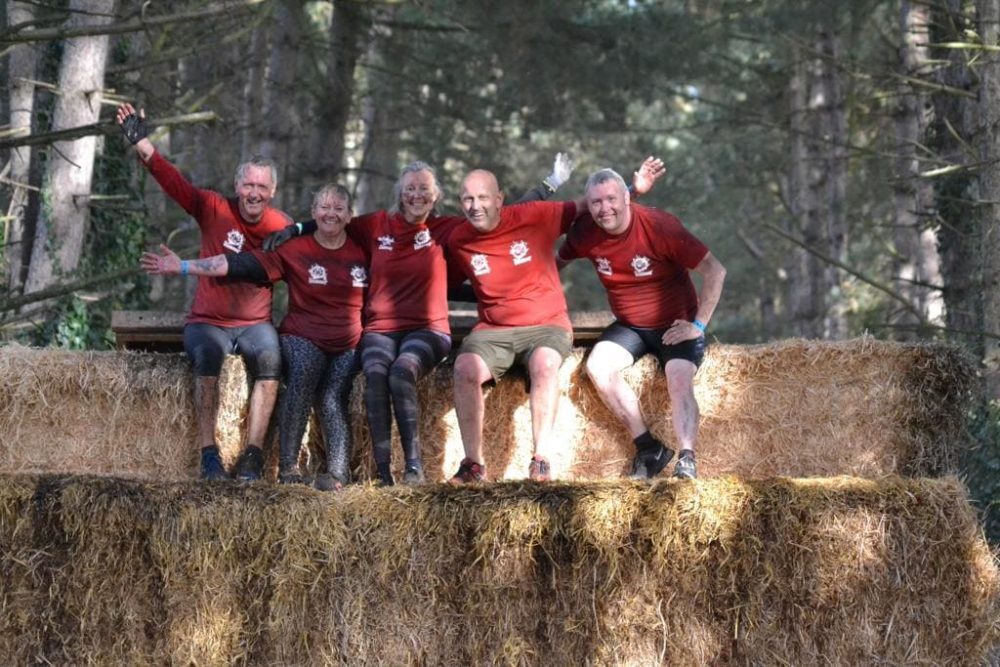 One young lady 'froze' for several minutes over a-water based obstacle comprising horizontal telegraph poles at increasing heights that you climbed up to. When at the top you dropped down bottom first onto another and then a final drop into about 1 metre of water. No amount of coaxing or 3, 2, 1 could persuade her to take the final drop. By this stage a backlog of competitors had build up and I must confess I was tempted to nudge her with my foot, but good sense took over! Finally someone held her whilst she made the drop.
After 5 miles and 30+ obstacles the course splits and the Boss Hoggers go right and the Whole Hoggers go left. The famous five carried on for the further 2 miles and another 10'ish obstacles, running up and down some sandy, strength-sapping slopes (no hills in Suffolk!). If this was designed to tire us it was certainly succeeding! In this area we spied IOGer Karen Sharp who was on marshalling duty for the local hospice.
Further obstacles include the sheep dip (needs no description but watch for those pesky leeches), the tyre lift (tyres on ropes which were required to be raised) and the river crossing. You could swim or use a rope slung across the river, which was about 2.2m (7 foot) deep and 20m wide. Finally, after climbing up a long roped ramp using grab ropes we could see the finishing line. As we crossed the finishing line our very own Irish 'songbird' Anni Meehan was waiting with camera phone in hand. Anni was marshalling and very kindly took a photo of us after we finished.
After we washed ourselves (cold paper from a hose) and got changed drinks were in order. Luckily it was still relatively warm. So muddy, wet, grazed and bruised we made our way home.
Did we enjoy ourselves? Personally, 10 days later, I think I probably did!! Actually I'm sure we all did. Would I do it again, yes. So if you fancy a challenge keep and eye open for 2024's application.
PS I only described some of the obstacles.
PPS I still haven't quite got all the mud out of my nooks & crannies……